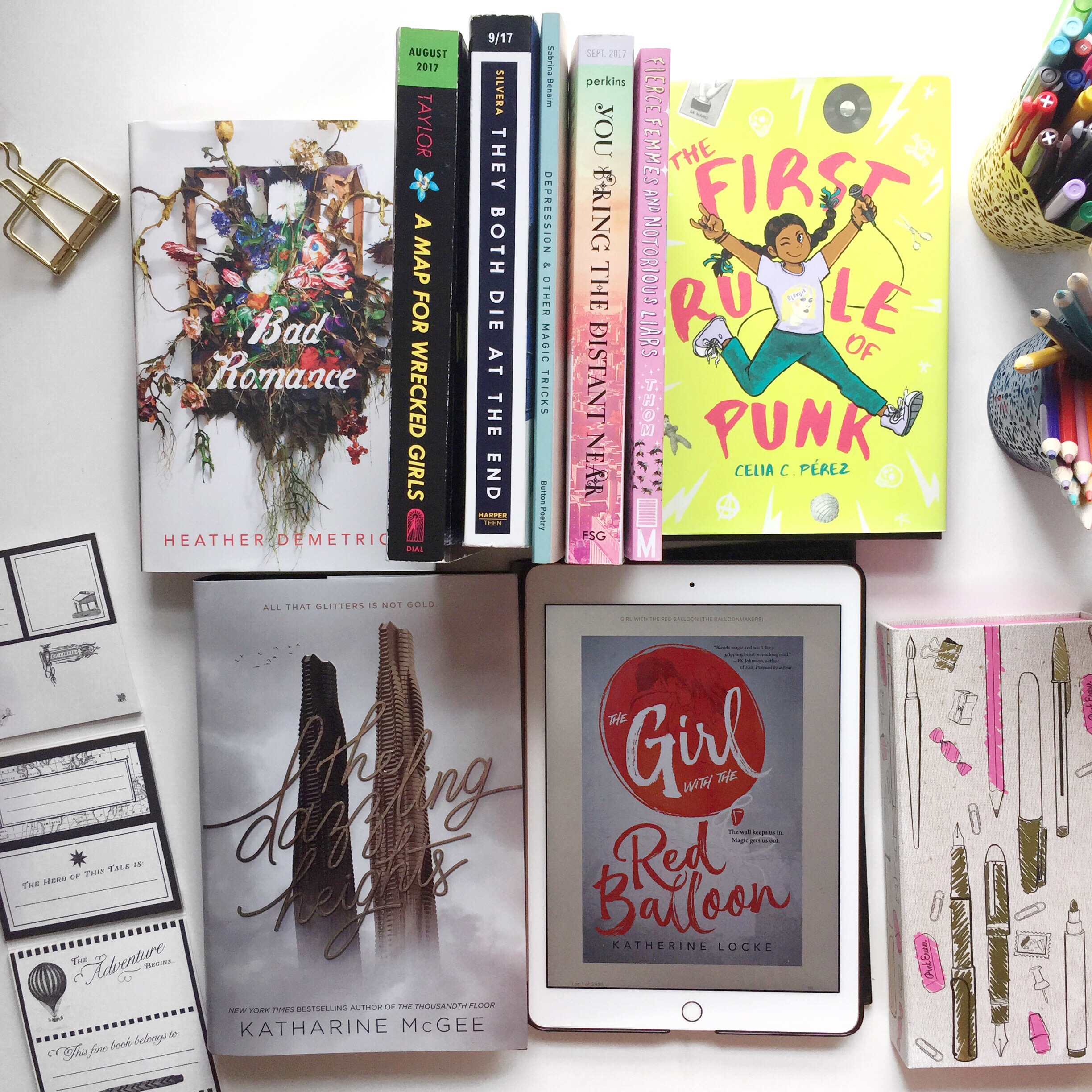 It's a known catch among book bloggers: we read faster than we review. Recently I've found my books waiting to be reviewed in a giant pile, and rather than bog down the blog with big reviews for all of them, and stress about it, I decided I wanted to just come here and share them with you and share my thoughts. That's what we're here for anyway. So here are a whole bunch of books I've read in the last couple months!
A Map for Wrecked Girls by Jessica Taylor
Two sisters find themselves shipwrecked on a tropical island – just them and one of the guys they just met on the beach, Alex. The sisters – Emma and Henri – used to be attached at the hip, but now that they're older and carry secrets, they've found themselves falling away from one another, in a vicious cat fight kind of way. When Emma and Alex quickly connect, it only makes the tension on their little island that much thicker. I was drawn to this book for the sisterly complex and to see how YA would handle shipwrecked teenagers these days. It was alright, but it wasn't a memorable story for me. It had its thrilling and fun moments, but now that I've had some time since I've read it, I honestly can't tell you much more about what happened.
Bad Romance by Heather Demetrios
This was a completely heartbreaking read. This girl Grace lives with an emotionally abusing stepfather and a mother with severe untreated OCD. She spends her evenings and weekends as their servant, one wrong step and something could go completely wrong. So when Gavin, the resident mysterious boy in a fedora, falls for her after all her years of crushing on him, she takes him as her salvation, only to find herself in a relationship gone seriously wrong. I found Heather's writing beautiful and melancholy, and having Grace address Gavin as 'you' throughout the book was a clever touch that dug deep. I wanted to help Grace and smack Gavin (seriously what was with the fedora? Who falls for a guy in a fedora? That's a red flag right there). The way the story moves is reflective on the back and forth of this kind of relationship – Grace promising she'll break up with Gavin, but then he threatens to kill himself – which grabbed me through the whole book. I have sticky notes throughout. I hope readers take it as a cautionary tale and a way to recognize signs that something's not right. Here's a tip, if a guy says "I'm trying to save you from me," believe him.
You Bring the Distant Near by Mitali Perkins
Well this was a really neat book. It follows three generations of women in a Bengali family – you only get a piece of the book with each woman at a certain time. You get to see how remarkably different twin sisters Sonia and Tara grow up, and how they are as mothers to teenage girls. It's rare you get to see the future of characters. You also get to see what life was like for their mother. This story starts in the '60s but it almost doesn't matter. Tragedy, racial problems, and class struggles fall upon the newly immigrant family in New York City and they're constantly being tested. Sonia falls for a black man. Tara wants to pursue singing rather than academics. Their daughters Chantal and Anna learn to fight for what they believe in. Ranee learns how to start living in America. It's a really touching and unique story and I think this is one of those under-the-radar hits of the fall.
Depression & Other Magic Tricks by Sabrina Benaim
I hadn't heard of Sabrina before I was introduced to this book of her poetry – I didn't know about the viral YouTube video of her poem 'explaining my depression to my mother.' When I looked it up, I was entranced in her quick spoken word and her explosion of feelings. Even though I've grown up the daughter of a poet, I've been daunted by the genre in the last decade or so, intimidated. Sabrina's poetry is accessible and easy to connect with. Anybody who fell for Rupi Kuar will fall for Sabrina Benaim. I absolutely loved reading this, so much that I bought a new set of 40 coloured pencils to use to draw on and around my favourite lines, like: "the hollow auditorium of my chest swoons with echoes of a heartbeat, but I am a careless tourist here, I will never truly know everywhere I have been" and "the night sky is a lid with pinholes." Sabrina expresses her mental health and her life as a young woman in the city in such a beautiful and simple way.
The Dazzling Heights by Katharine McGhee
I have been looking forward to the sequel to The Thousandth Floor since the first book came out a year ago. Out of all the series I started last year, this is one I decided to stay with. It's not the kind of story I would think I'd be interested in, but somehow Katharine has hypnotized me with the glitzy life of teenagers in 2118. So in this book, we know that someone is avenging someone's death (no spoilers lol) and that the others are dealing with the secret of who committed the murder. I'm not too sure of what I was hoping for, but I think it fell a little flat for me. We didn't get to see any of the avenging until the end. Instead it was more about bulking up the characters relationships with each other, including a new girl named Calliope. I was into reading it, was glued for an entire weekend, but once I was done, I thought about how not much had happened, and there was one character in particular, Rylin, that I felt was given such a useless arc. I am still excited for more to come out of the series, though. I like Katharine's way of storytelling and her thoughts on what things will be like in 100 years.
They Both Die at the End by Adam Silvera
As I've mentioned recently, I haven't been a big Silvera fan like so many other bookworms I know. I couldn't finish More Happy Than Not and History is All You Left Me depressed the heck out of me. I know that's kind of his jam, though. But I liked this book a lot more. First off, it's rare that I read books by men and/or about men, just is. But I felt connected to the story and the characters Mateo and Rufus, and knowing that they were going to die by the end of the book definitely automatically sinks that hook. These characters were so precious, and I just wanted to save them, but I also liked sitting back and watching them become fast friends and then something more. I was left with a broken heart, of course, and my opinion changed.
The First Rule of Punk by Celia C. Perez
I wish I had found out about this book a couple months earlier than I did. I would have included it in my article about Moxie in Broken Pencil. I adored this book as much as I adored Moxie. While Moxie was YA about a white girl starting a feminist revolution through zines, The First Rule of Punk is a middle grade book about a Mexican girl who makes zines about all kinds of things hating having to move, but ultimately making friends by starting a punk band that riots against a school concert. It was such a charming book – including the zines (and I would notice like hey, I have that washi tape she used, and feel pleased with myself). Malú is devastated when she has to move away from her punk father in Florida so her straight-laced mom could take a job in Chicago. Malú isn't great at making friends, at least so she thinks, because she's stubborn and angry. But soon she finds misfits like herself and starts a band, only realizing later that, look, friends! I was invested in her and how she could triumph, and it was just so fun to read. I would love to see kids reading this book, it would warm my heart oh so much. And the fact that she makes zines is just, that, a thing she does. There's no explanation on why really, but it makes sense to the kind of girl she is, needing an outlet for things that bother her and using crafty energy. I wish I could see her band The Co-Cos (for coconuts) perform. One tiny mention is that I feel like if you're going to set a ziney book in Chicago, the character has to go to Quimby's!
The Girl With the Red Balloon by Katherine Locke
Ellie is on a class trip in Berlin when she spots a red balloon floating by itself in the park. As she reaches to grab it for a photo op, she's whisked away… to the past. To 1988, before the Berlin Wall came down, where she runs into Kai, whose job is to make sure Passengers (aka refugees) are carried by the balloons safely over the wall. Except because Ellie flew backwards, something's very wrong. We also get a third point of view, Benno, from a concentration camp in Poland during the Holocaust. I liked this – mostly for the concept. I appreciated finding a YA book about a Jewish character, with an interesting method of writing about the Holocaust. I had some problems with the writing style, like there were things that could have been explained better, I found the connection between Kai and Ellie sort of took off too quickly, and we didn't get a motive for what was happening until the very end (is that normal?). I am really into the story itself, and the existential question it creates (which I won't say because spoilers) but I felt like things could've been a lot smoother. I have a hard time with series so I think some of my opinion comes from that, but I'd be into checking out #2. I'm curious where the story will go from here!
*wipes brow* SO, what are you guys reading these days?