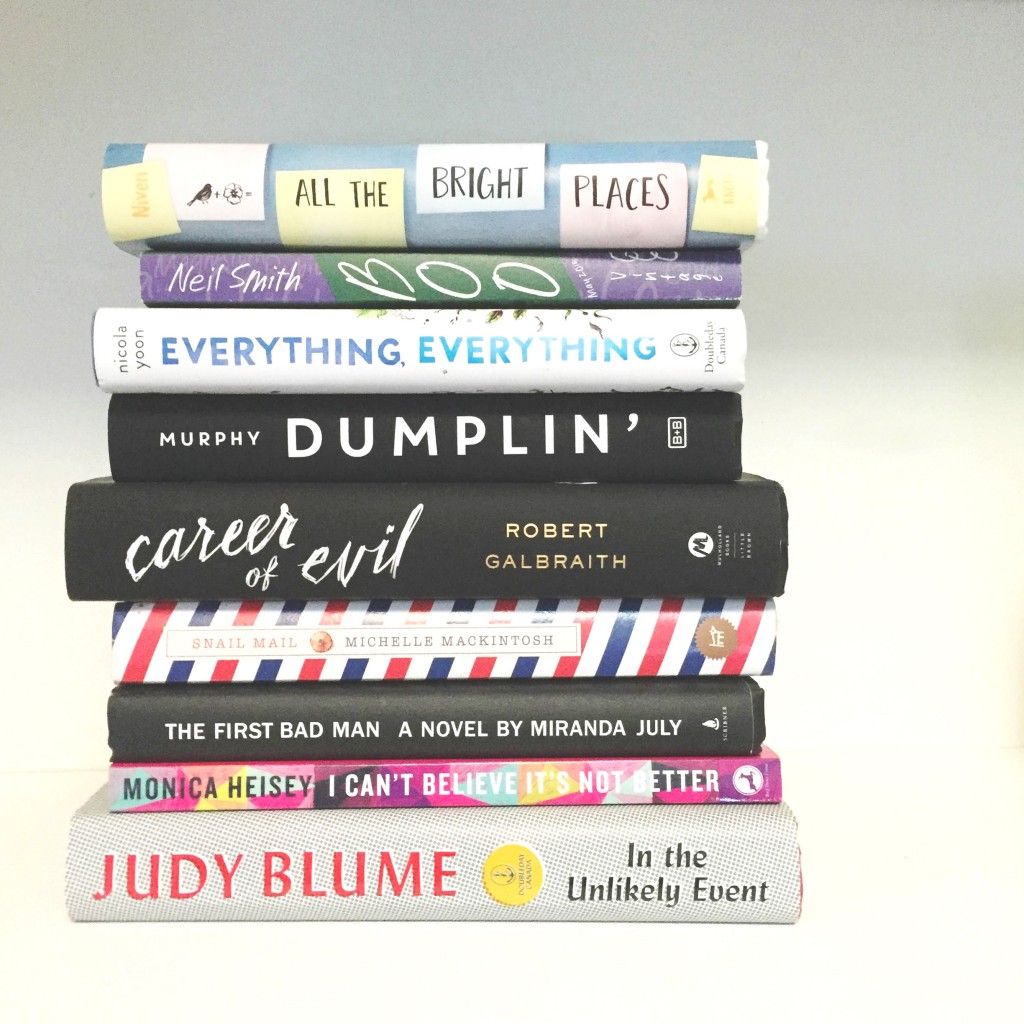 It's that time of year again! Time to look over the list of books I read this year on Goodreads and remember what I thought about them. Time to think 'why did I read that???' Time to think about what kinds of books I want to be reading right now. Time to just talk about books, books, books. So without any more word count, here are my favourite books of 2015.
First, we have my Top 10 that were published in 2015.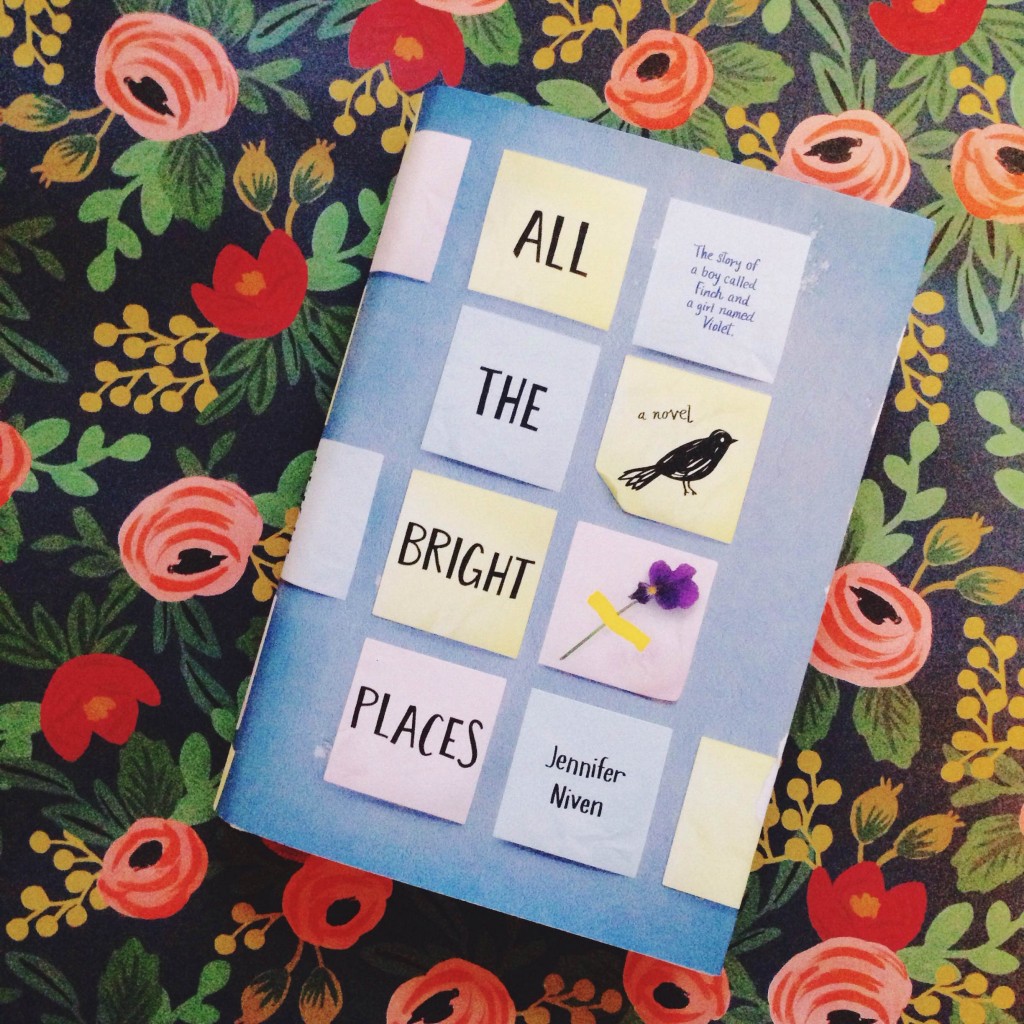 1. All the Bright Places by Jennifer Niven
Funnily enough, the first book I read this year. Which is kind of weird how nothing else compared to it for a whole year, but it still has a lasting impact on me. When I started reading this book, I was not a fan. The characters made me angry. But as I kept going, more and more I turned to a big pile of mush. It's my favourite kind of YA – dealing with big subjects but still with sweetness in between. I fell in love with Violet and Finch, and even Indiana a bit (yeah, what?). I cried a whole lotta tears when I finished. I still want to talk about it!
Read the full review of All the Bright Places.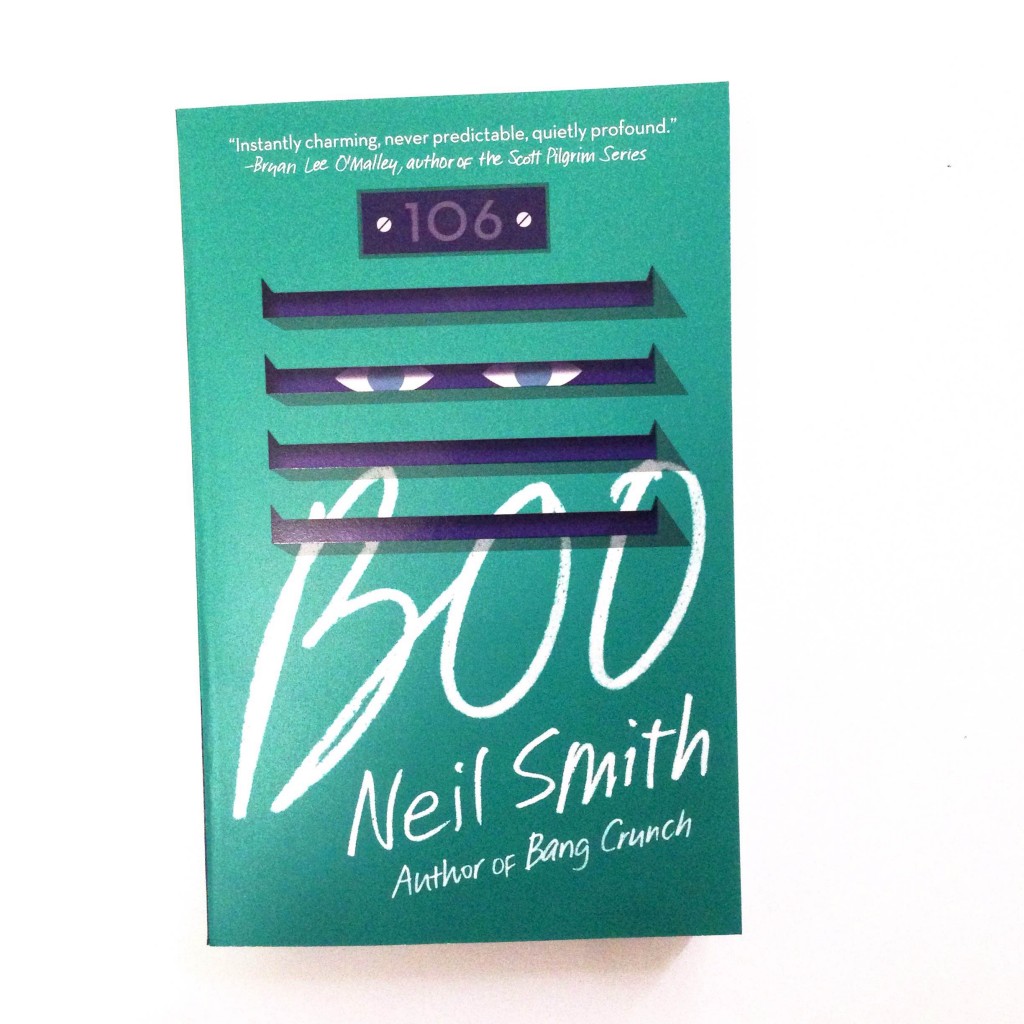 2. Boo by Neil Smith
I adore this book, oh my god. It was really hard to choose between this and All the Bright Places for my numero uno. It was one of the most compelling books I've ever read, I was hooked the whole way through. Boo is a kid who is telling you his mysterious story from a heaven-type place for only those who die at 13, so they stay 13. He doesn't know how he died. But when another kid from his high school shows up, everything changes. I really liked the writing, and hope there is a lot more to come from Neil Smith.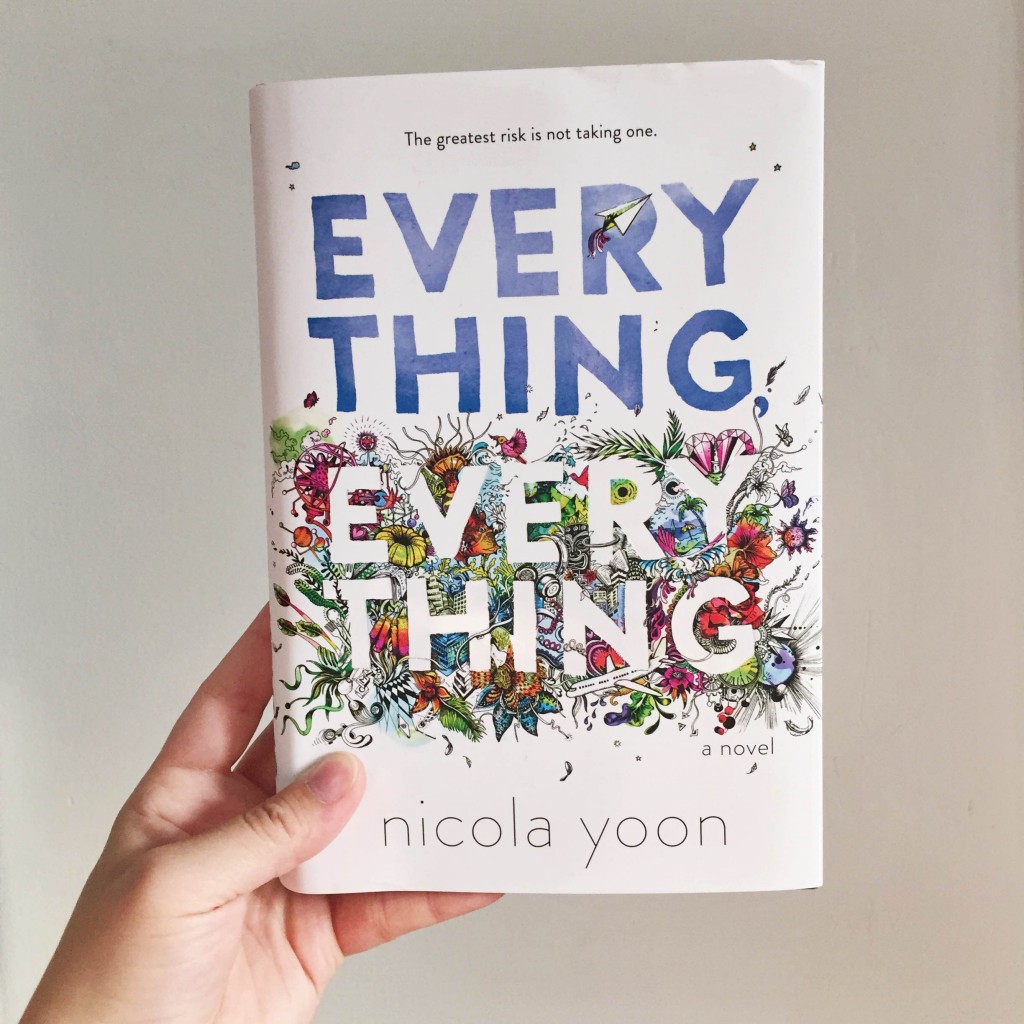 3. Everything, Everything by Nicola Yoon
Everything, Everything actually had everything in it. Diversity, mental health, trauma, romance, friendship, family issues, teen angst, etc. It was a quick read for me, but partly because I flew through it, I was so attached to the characters and what was happening to them. Maddy has been stuck in her house since she was a kid with an auto-immune disorder. She never really let herself think too much about the outside world until she noticed the boy moving in next door, who challenges everything she's ever known.
Read the full review of Everything, Everything.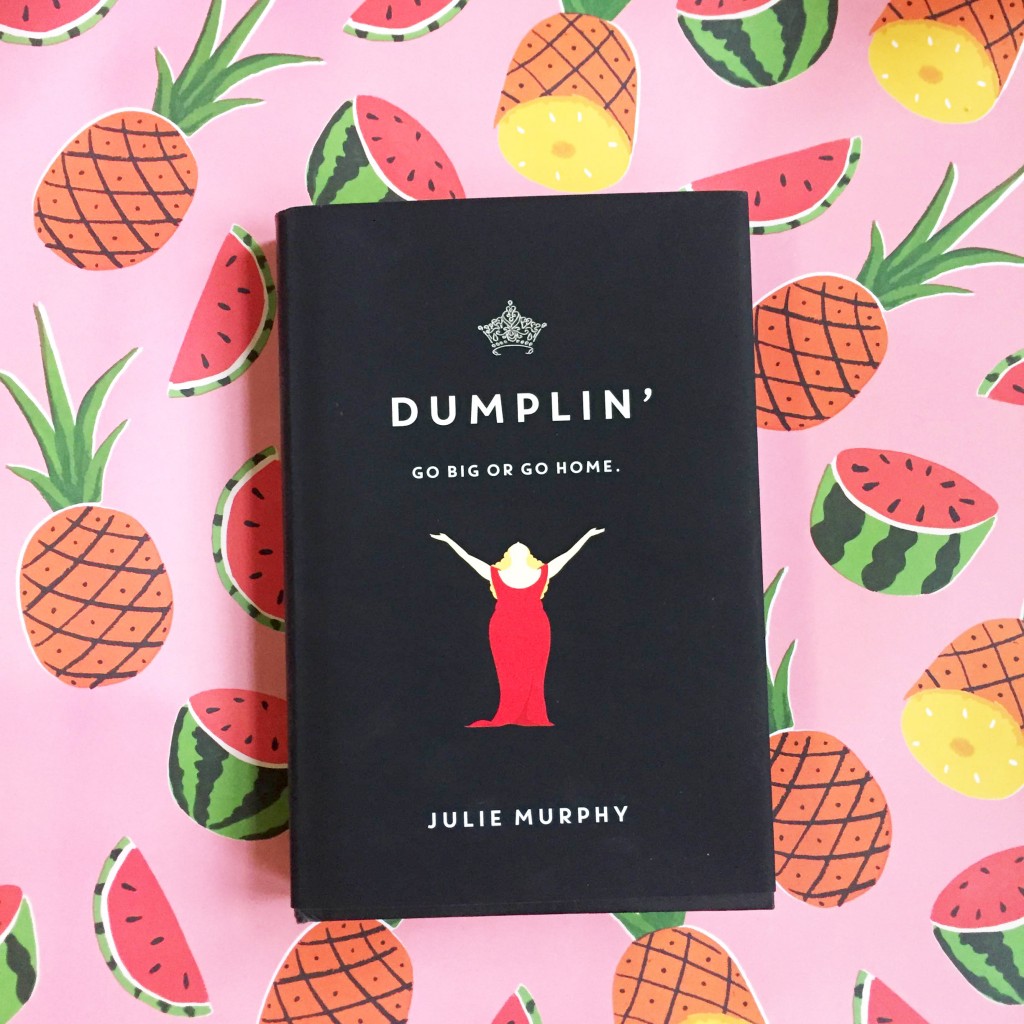 4. Dumplin' by Julie Murphy
Dumplin' filled a crevice of my bookshelves that had only really been filled by My Mad Fat Diary before, but it is still a different enough story. While My Mad Fat Diary is mostly a real story, Dumplin' is fiction. And Dumplin' is body positive of being plus size, whereas My Mad Fat Diary isn't. Anyways, this book made a personal impact on me that I won't forget. Dumplin' is a teen girl in Texas who's just trying to figure out what to do with herself as the daughter of a pageant runner, a fast food employee who's entered into some curious flirting with a co-worker and an evolving best friend. It sounds simple but that's what makes Dumplin' shine.
Read the full review of Dumplin'.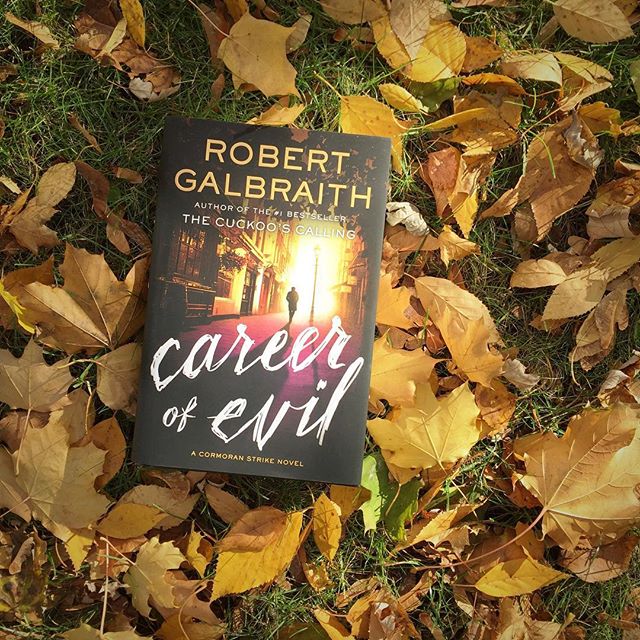 5. Career of Evil by Robert Galbraith
I am really into this series. I just eat them up. (Heh.) J.K Rowling as Robert Galbraith is disgusting, witty and dark. Though this book wasn't my favourite of the series (the second one was), I still had a lot of fun reading it. Plus, it made me jumpy while walking around at night, so … that's cool. 😐 Strike and Robin are facing consequences of solving two very high-profile cases. In normal circumstances the consequences would be good, but as a private detective, Strike doesn't want attention. But you can't always get what you want, especially when severed body parts start getting delivered to your office addressed to your assistant. Robin could do with a lot less stress, too, what with dealing with an asshole of a fiancee. (Ugh I hate Matt.) Anyways, I'm somewhat a stranger to mystery novels (my experience are these and Nancy Drew, basically) so the simple style pleases me. I am totally reeled in at the whodunit storytelling – always whipping you back and forth between suspects. And with each book we become more and more emotionally invested in the protagonists. I hate waiting so long between books!
6. Snail Mail by Michelle Mackintosh
Though not a novel like almost everything else on this list, Snail Mail makes it because it was a) gorgeous, seriously gorgeous and b) I love mail, duh. Michelle nicely shows off mail etiquette rules, cool designs and fun projects for the mail enthusiast. It's a hefty book that I love to display on my shelves. It's the kind of book any letter writer should have. Really the pictures do better justice than my word dribbles.
Read my full post about Snail Mail.
7. The Blackthorn Key by Kevin Sands
This was one of the most fun books that I read this year. It's middle-grade but that doesn't mean it's not fun for adults! Christopher Rowe is a teen living in the middle ages in London; an orphan but apprentice to an apothecary, Benedict Blackthorn. Something fishy has been going on though, a mysterious cult has been murdering all the local apothecaries. So you know what comes next. Christopher must use his wits and smarts to figure out clues Blackthorn left for him in order to defeat the cult (something all thirteen-year-olds are expected to do). It's an exciting and funny book, you'll be flipping pages as fast as you can.
8. The First Bad Man by Miranda July
I like Miranda July best in her writing. Her voice is quite different from everyone else's, it's hypnotizing. I got through about 3/4 of the book thinking it was alright and kinda weird (the latter is what you should be thinking), but by that last quarter I was so interested by the story as it flipped quite dramatically. Perhaps too late, but I don't mind. Miranda doesn't write likeable characters, I don't think she ever will. Cheryl is delusional. She's middle-aged but still haunted by a baby's face she met when she was six, she is obsessed with a man she met at work, and somehow she lets her bosses convince her to let their rabid daughter live with her. It… gets interesting.
9. I Can't Believe It's Not Better by Monica Heisey
This is probably the book that made me giggle the most this year. Monica, a Toronto writer, compiled a bunch of essays, quizzes and other rants into this great book that celebrates the fact that you eat in bed, that you have no clue what you're doing with your life and that basically there are some specific challenges to being a woman. It's funny, unashamed and smart.
Read the full post about I Can't Believe It's Not Better.
10. In the Unlikely Event by Judy Blume
If you told me a year ago that a Judy Blume book would be on my top 10, I wouldn't believe you. I know everyone's obsessed with her, but I honestly don't remember much about reading her books as a kid, and I hadn't read any of her adult books either. But I requested to review it through the publisher, and was pleasantly surprised. It took me a while to get into it, but once I did, I found it very satisfying. Judy took something horrible that happened in the past and created a fictional tale around it. In the 1950s, three different planes crashed over Elizabeth, New Jersey – they were purely unrelated, but a horrible coincidence. Judy's story focuses on many characters who were affected, but mostly on Miri Ammerman, 15 and flummoxed by unthinkable tragedy. She watches the affect on people all around her but doesn't quite realize the affect on herself right away. You'll definitely get emotionally invested in this story, and you dread things you know that are coming, but ultimately this story is feel good, because it shows how people can come together to help each other.
Now here were my top 6 books I read in 2015 that weren't published in 2015
1. I'll Give You the Sun by Jandy Nelson
I love this book. I recently read it, so I'm still hoping to post a review sometime soon, but gosh I'll just say it was beeeauuutiful.
2. 84, Charing Cross Road by Helene Hanff
I can't believe I didn't read this book until this year! It's a must for all book- and letter-lovers. Writer Helene Hanff started writing letters to a bookshop in London when she saw an ad in the newspaper about them having second-hand books. She struck up a fast friendship with an employee there, Frank Doel. This was around the 40s or 50s and they ended up writing letters to each other for decades. It was even made into a fantastic movie. If this book doesn't squeeze your heart I don't know what will. It's also very funny!
3. The Bell Jar by Sylvia Plath
Real glad I finally read this book. I don't regret that I waited this long though, because I think I was finally in the right headspace to understand it, and also it was a super-cute moment at the start of my relationship with Jack – we went to a second-hand bookstore on one of our earlier dates and I had said something like 'oh I keep meaning to read this book, I know it's important, I should find it sometime,' and when we left the store he pulled the book out of his coat pocket – he had bought it in there when I was dreamily looking out the window or something. *sappy face* But anyways this book is a very important read and I highly recommend it if you want to read about mental health.
4. Anne of Green Gables by L.M. Montgomery
Another book I had long-meant to read and am glad I finally did! I originally read this and the second book as part of a read-a-long but I couldn't keep up after that, sadly. I would love to read the rest at some point, though. Anne is adorable and a lovely part of Canadian history! I love her spunkiness and imagination. Also the end of this book is *sobs*.
5. To All the Boys I've Loved Before by Jenny Han
A quick, sweet read about family ties and boys, boys, boys. I didn't expect to love this book so much but I did!
Read the full review of To All the Boys I've Loved Before.
6. The Rule of Thirds by Chantel Guertin
Pippa Greene is an adorably naive teen in Western New York who really likes photography, much like I once was. She was a great character to read (not because I really identified with her, but just because it's cool to see how she's just getting stronger and stronger). Another very quick read that has a lot to do with boys but also with learning about yourself.
Read the full review of The Rule of Thirds.
What were your favourite books of the year?
P.S. I started a new weekly e-newsletter! They'll be full of fun papery-related things on the internet, plus what I'm reading, funny videos and random things. Sign up now, the first one goes out tomorrow!