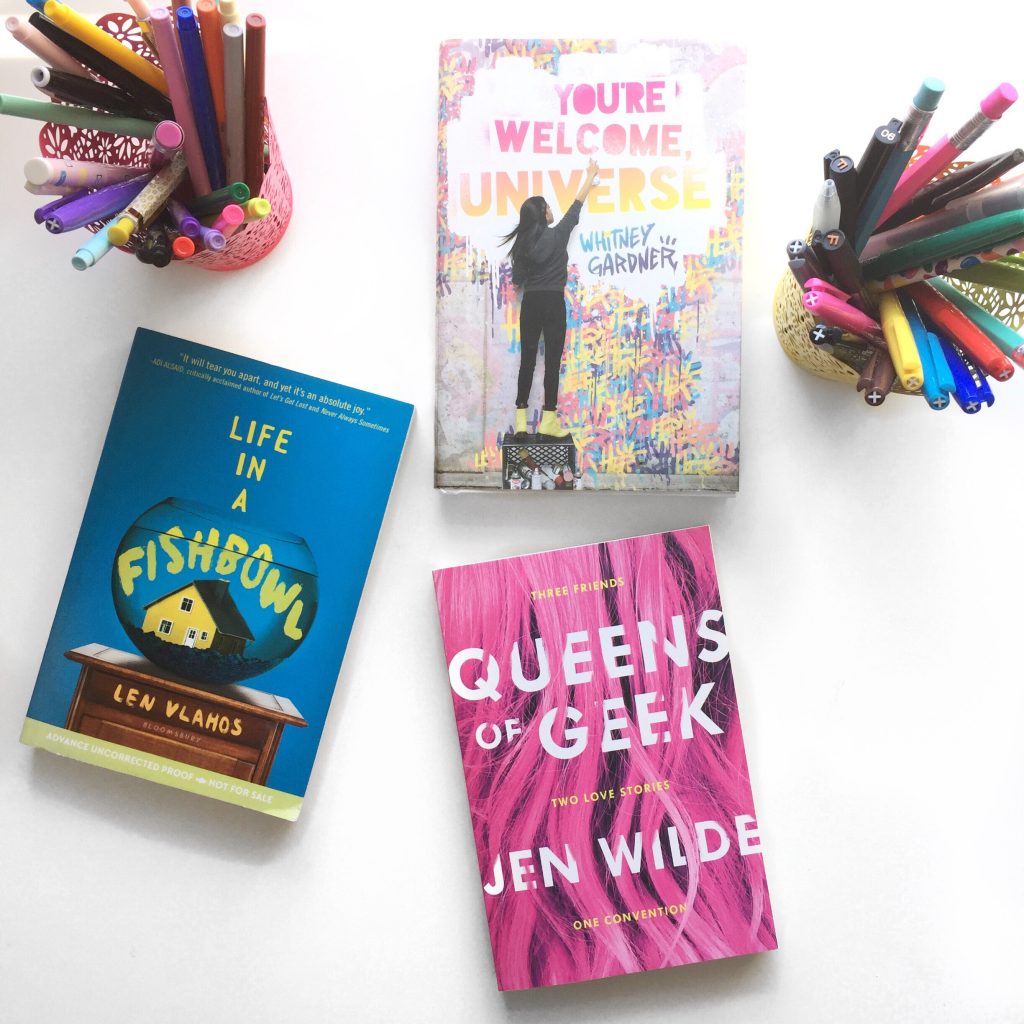 As mentioned in a previous post, I've been annoyingly behind on book reviews, and I'm so sorry! I've read a good number of good books so far this year, and I still want to share them with you! Especially as these ones seem to be flying under the radar a bit, and I need to tell you why you have to read them right now. These three YA books affected me in the best way: keeping me thinking about them much longer after reading them.
You're Welcome, Universe by Whitney Gardner
I feel like this book is saying to me "You're Welcome for the Book Hangover, Jessica." Julia is deaf, Indian-American, has two deaf moms, and yet none of those qualifiers to who she is equal to what the story is about, which I really admired. She is who she is, and her story isn't about being an outsider in any of those ways – it's about how she has a hard time making friends, has some anger issues, and has trouble expressing herself without being contained. When she covers up slang about her supposed best friend on the wall of their school, that friend snitches on her, leading her to get expelled. She transfers to a school where she's the only deaf person – people definitely do not know how to act around her – which means she's more eager than ever to claim space of her own through her art. But soon someone starts adding to her art – not tagging over it, but actually making it better – leaving Julia angry, confused and paranoid. Instead of freaking out and going dark for a while, she takes on the challenge to her art and identity.
Julia's a strong character, and I really enjoyed reading her story. I liked reading about how people spoke to her and how she reacted to them. She often wanted people to adjust for her, rather than her adjust for them, which I thought was a fair thought, especially for a teenager. I also loved reading about her friendship that she slowly forms with another girl who she only calls Yoga Pants. This book has a lot of colour and character, and I will highly recommend it to anyone, especially those who read mostly YA and are looking for something fresh and vibrant.
Life in a Fishbowl by Len Vlahos
This book is somethin' else. It's different from most YAs I've read – it's dark and yet sickly funny. My only criticism is that it didn't exactly read like YA in terms of the fact that the main character, a fifteen-year-old girl named Jackie Stone, is kind of the least interesting character in the whole book, and her story is often overshadowed. But anyways that is not enough to deter. I was fascinated by this story and would love to talk about it more!
Jackie's father has just found out that he has a brain tumour. He freaks out because he doesn't know how his family will provide for themselves once he's inevitably gone, and does something really drastic. He puts his life up for sale online to the highest bidder. We learn about all the bidders and their creepy motivations for wanting to buy his life, like wanting to hunt a human, but the winner ends up being a ruthless TV executive, who turns the family home into a reality show, which really puts a blender to Jackie's life. Not only do we get a peek into all these really ridiculous characters, but we also hear the story straight from the brain tumour. That's right. He eats the father's memories. YA often has multiple character POVs but I've never read anything that told a story from a brain tumour! This tragicomedy was a refreshing and disturbing read all at once, and it's a great examination on the lengths people will go for what they want.
Queens of Geek by Jen Wilde
This book is SO SWEET. I want to stroke it – which isn't hard to imagine as the cover is gorgeous pink hair. It's one big adorable story that you will forever look back fondly on. I read a review somewhere that said how the story was basically the best outcome for all the characters – nothing really terrible happens to them – and I was like … I have no problem with this. After all, it takes place over a weekend, and these characters totally deserve to get what they want.
Three friends from Australia fly all the way to California for SupaCon, a big fan convention that holds everything their dreams are made of. Charlie is a vlogger and actress promoting her first movie, hoping to get the chance to show everyone that she's over her very public break-up with her co-star. But she's sidetracked when she meets another vlogger named Alyssa Huntington, also her internet crush, and realizes that Alyssa likes her too. Taylor and Jamie are along for the ride with Charlie – but Taylor's biggest motivation is that the author of her favourite fandom will be at the Con, and with her super heavy collection of books toted from across the world, Taylor's convinced that if she can meet her idol, she can be cured of her shell. She's autistic and anxious, and really, really in love with her best guy friend Jamie. Taylor and Jamie have basically been that couple that everyone knows loves each other but never does anything about it, so their romantic tension is ridiculously cute. By the end of the book, I wanted to pick up Charlie, Alyssa, Taylor, and Jamie into one giant hug and tell them all how much I was rooting for them. If you're into geek culture, LGBTQ stories, and super endearing characters, you will love this book.
Thank you to Raincoast Books, who provided review copies of Life in a Fishbowl and Queens of Geek in exchange for honest reviews.
What have you been reading lately?