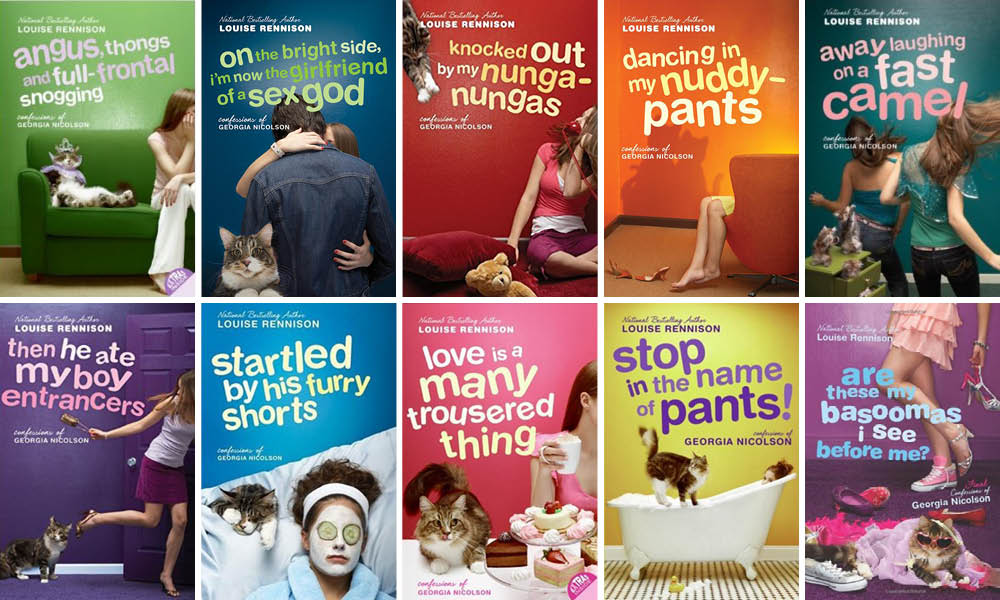 In honour of our recently departed Teen Queen Louise Rennison, let's read (or re-read) her fantastic series, Confessions of Georgia Nicolson, home of the notorious Angus, Thongs & Full-Frontal Snogging! I read these (except #9 & 10, ooh can't wait, it'll be like new!) when I was in high school. I adored them to bits. I laughed so hard and so often, I was always shocked and pleased at how funny a girl could be in a book. Georgia is stubborn, ridiculous and her own person, which is both admirable and entertaining. She is boy-crazy AND a feminist! (<- My teenage shock.) Rennison also introduced us to British lingo and dubbed a whole new vocabulary for teen girls with Georgia, such as nunga-nungas, nuddy-pants, nippy noodles, the Horn and my personal favourite I still use, phwoar. (I laughed so much even looking through the books to check spelling, I knew this was a good idea.) There are even glossaries in the back of each book!
So, join me, as we find yet another vessel for our nostalgia for the '90s (holy crap I wish I could have gone to this book launch), laugh at silly things and pay tribute to a fantastic comedic writer.
There are 10 books, which I know sounds like a lot, but they are ~super~ quick reads and fairly cheap if you're buying new copies.
And don't forget, there's a movie! Watch this hilarious trailer.
Here's how this readalong will work.
There will be set dates on when to finish a book by, but you can read at any pace you want. Don't worry if you fall behind.
You can (please do!) discuss your thoughts about the books via your blog, the Goodreads Group and social media accounts. Try to keep the posts relevant to the current book/date, though.
When posting about the readalong, please use the hashtag #GeorgiaNicolsonReadalong.
That's it! Have fun!
Dates to read by:
March 22 – #1 ~ Angus, Thongs & Full-Frontal Snogging
April 12 – #2 ~ On the Bright Side, I'm Now the Girlfriend of a Sex God
Bonus: discussion of the movie Angus, Thongs & Perfect Snogging, which is based on the first 2 books!
May 3 – #3 ~ Knocked Out by My Nunga-Nungas
May 24 – #4 ~ Dancing in My Nuddy-Pants
June 14 – #5 ~ Away Laughing On a Fast Camel
July 5 – #6 ~ Then He Ate My Boy Entrancers
July 26 – #7 ~ Startled By His Furry Shorts
August 16 – #8 ~ Love is a Many Trousered Thing
September 6 – #9 ~ Stop in the Name of Pants!
September 27 – #10 ~ Are These My Basoomas I See Before Me?
Let me know if you have any questions in the comments, and make sure to follow along on here and Instagram!