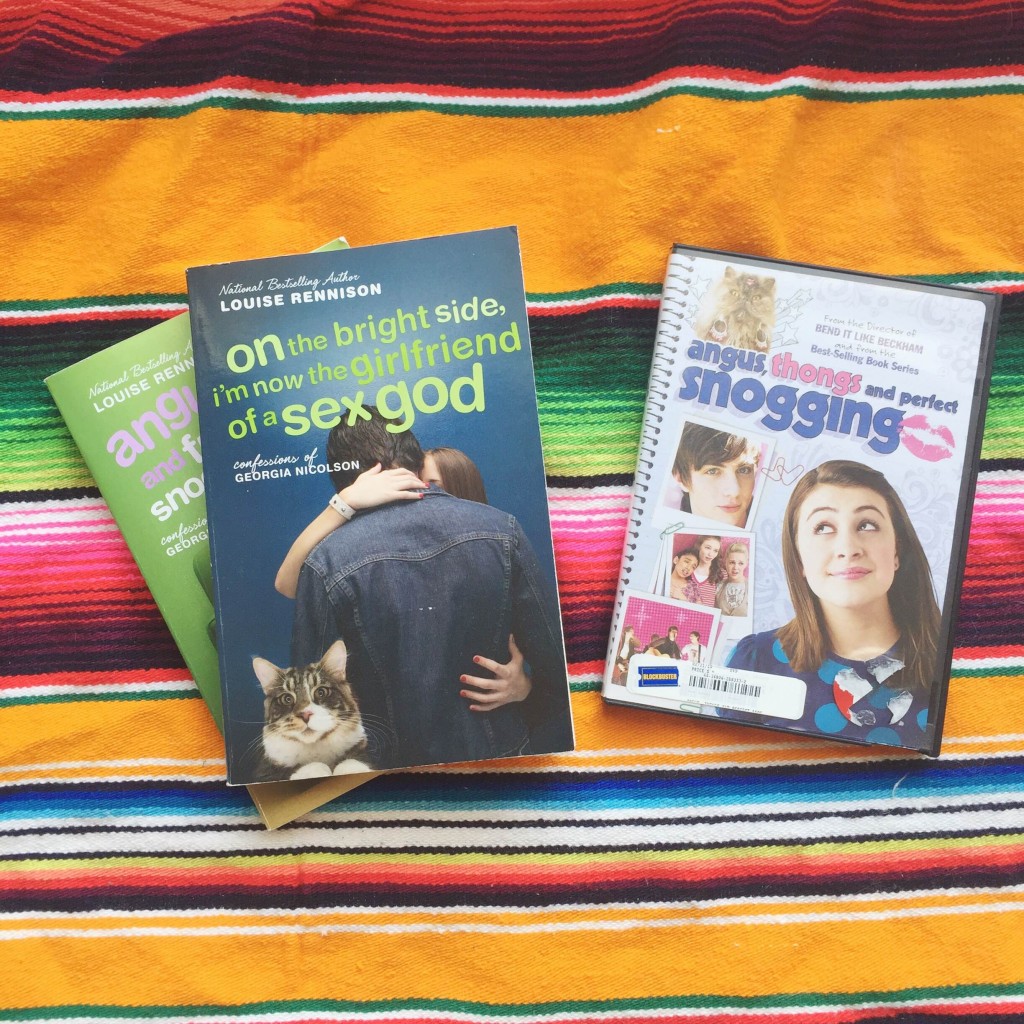 Pip pip, I'm back with the second instalment in the Georgia Nicolson series, On the Bright Side, I'm Now the Girlfriend of a Sex God! If you missed me it's because I took the last few weeks off as I was moving house and that is incredibly time- and brain-consuming. I'm still not fully settled but I'm here for you and Georgia!
Quick refresher: in honour of our dearly departed Teen Queen Louise Rennison, I wanted to start a readalong so that we could read (or re-read) her classic Georgia Nicolson series. Every three weeks we'll post about the next book in the series. You're invited to join in at any time!
Please note that if you haven't read this book yet and intend to, there are a few spoilers!
In On the Bright Side, I'm Now the Girlfriend of a Sex God, we pick up right after Angus, Thongs and Full-Frontal Snogging. Georgia's just been told that her family is going to move to New Zealand, right after she kissed Robbie. In a 14-year-old's world, that means everything is basically over.
Sunday, July 16th
my room
6:00 pm

Staring out of my bedroom window at other people having a nice life.

Who would have thought things could be so unbelievably pooey? I'm only fourteen and my life is over because of the selfishosity of – so-called – grown-ups. I said to Mum, "You are ruining my life. Just because yours is practically over there is no reason to take it out on me."

But as usual when I say something sensible and meaningful she just tutted and adjusted her bra like a Russian roulette player. (Or do I mean disco thrower? I don't know and, what's more, I don't care.)

If I counted up the number of times I've been tutted at, I could open a tutting shop. It's just not fair… How can my parents take me away from my mates and make me go to New Zealand? Who goes to New Zealand?
It doesn't take long until Georgia finds out she's not moving anymore and the Sex God dumps her for being too young (he's 17). Womp womp. She gets quite depressed, spending a lot of time in her room and wondering why everything happens to her. She goes through a lot of 'why would he say see you later and then not call me?' angst and hatred spewed at her family. Typical teenage girl stuff! There are more hilarious conversations between her and Jas, too many to specify! The two spend a lot more time together in this one – mostly because Jas' boyfriend Tom (Robbie's brother) goes off to study in another town for a while. Sometimes you wonder why on earth Georgia and Jas are friends because Georgia treats Jas so badly, but then you see softer moments when Georgia lets her guard down. But it's the bad friend moments that are the funniest.
5:00 pm

Jas's room at her house. Jas has just popped down to the kitchen to make me some nutritious snack (Pop-Tarts) to cheer me up. I'm just not interested in anything, though.

5:03 pm

God her room is tidy. It's pathetically tidy. All her cuddly toys are neatly lined up in size order on her bed. I'm going to mix them up for an hilarious laugh. Ho hum, pig's bum. She's even got a box with "letters" written on it. I wonder if she's god a drawer that says "enormous pants" on it. There are some letters in the box. Probably private ones. It says PRIVATE on the top of them. Probably private, then. Probably letters that Tom has written to Jas. Very personal, and private; I'd better put them away.

5:16 pm

She calls him HUNKY! That is hilariously crap! Absolutemento pathetico!!! HUNKY!!! Tom!!! hahahahahaha.
Georgia is trying to grow up so fast with her maturiosity and yet is still incredibly immature and unprepared for life. Fit for humour! She reads her mum's copy of Men are from Mars, Women are from Venus and decides to try to play hard to get with Robbie by asking his friend Dave the laugh out on a date. She dates Dave for a while but actually does do a mature thing later by telling him that she was using him. Georgia starts to realize that boys like her and that gives her power.
Sidenote: this is also the book in which we get the wonderful vocabulary of 'piddly diddly department,' 'poo parlour division,' 'nunga-nungas' and 'nippy noodles.'
Anyways, we get to read a rollercoaster coaster few months for Georgia and are left wanting to know what happens next, which we will in Knocked Out by my Nunga-Nungas! (Oh, puberty.)
Bonus! Have you guys watched the movie Angus, Thongs and Perfect Snogging? It's a combo of these first two books, though after re-reading them I realized a lot was different and I had actually been remembering what happened in the movie as what happened in the books. I actually really like the way the story progressed in the film. Plus overall it was just a great film. So adorable and funny, with Georgia Groome and Aaron Taylor-Johnson, who perfectly capture the awkward teenage moments of having a crush, and are who I picture when I read the characters now. It's a really sweet movie to watch when you're looking for something light and cheeky. I remember being so giddy when I watched it for the first time (also knowing it was directed by Gurinder Chada, who directed one of my other favourites Bend it Like Beckham) and I continue to be just as giddy every time I watch it. If you want to watch it, it's very easy to find online!
Here's an adorable scene:

What did you think of the second book in the series? Were you like Georgia when you were a teenager?
We'll be back for Knocked Out by my Nunga-Nungas on May 3rd!