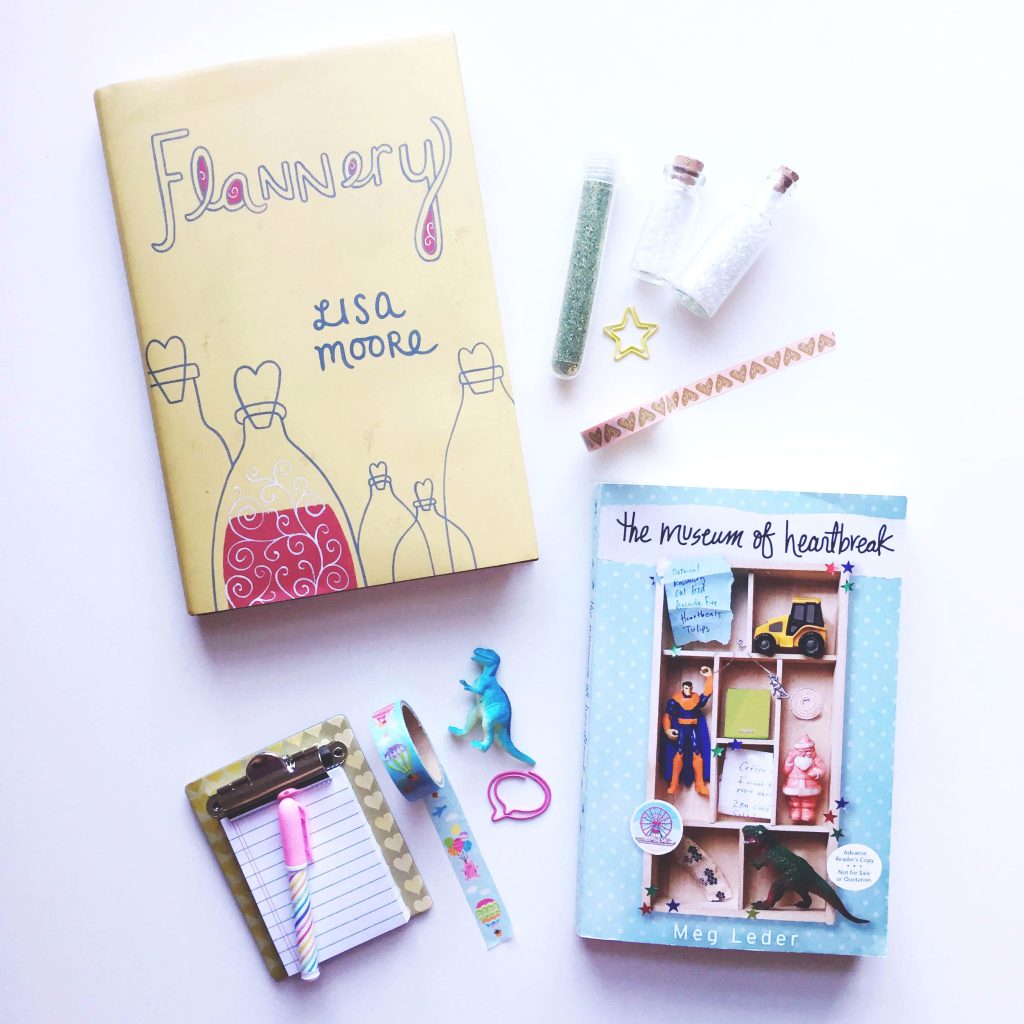 Here we are with another couple YA reviews! Told you guys I've piled them up lately. Today we have two super cute contemporaries about young girls who are loveable but need to go through a life lesson or two in order to see their surroundings a bit differently.
Flannery by Lisa Moore, via Groundwood Books, out now.
Flannery, a 16-year-old living in St. John's, Newfoundland (I don't think I've ever read a book with a character in Newfoundland!), has a few problems. Her single mother can barely afford to pay rent or buy her a textbook, her best friend has ditched her for a new boyfriend, she has a big assignment for her entrepreneurship class due and she's partnered with the guy she's had a crush on since she was a kid. Tyrone is the bad boy now, but that's not who Flannery remembers, but that's who she's attracted to. She still thinks of him as the vulnerable boy. Tyrone is barely at school and never shows up to help with her assignment, but she'd still drop anything to spend five minutes with the eternally stoned motorcycle dude he has become. But it was his idea for their project to come up with a business: love potions. Fake potions, they're just like mood rings, a novelty. But then word gets out around school that the love potions work.
The book is presented to be more about Tyrone and the love potions, but I felt that it ended up being more about Flannery's relationships in general, especially with her mom and her best friend. Both of these relationships are going through trying times and Flannery needs to see how they're going to resolve themselves. She's constantly angry with her mom, Miranda, for being weird and poor, and she misses her friend Amber like crazy because Amber has basically up and dumped her for a new social circle and controlling boyfriend with no warning. (The Amber storyline is the saddest – I appreciate that more books are tackling what a friend breakup can be like, as it's something very real that people go through at all ages but don't really talk about it.)
I thought the story itself was pretty cute and realistic; I think it's loosely based off the author's and her children's lives, and I quite liked Flannery as a character. She has great vocabulary – "hoofed it" and "beat it" in reference to hurrying somewhere made me giggle – and she's a little bit clueless so you follow her as she learns. I did think that the story progressed too slowly, though. I craved a bit more action and focus. The love potion part didn't even come in to play until after 100 pages. I was also a bit distracted by quotes not being within quotation marks (but that's just a personal thing). Overall, it was still an enjoyable read and I treasured it even more so because it was Canadian.
(Thank you to House of Anansi / Groundwood Books for the review copy.)
The Museum of Heartbreak by Meg Leder, via Simon & Schuster, out now.
This book is going to be high up on my Best of 2016 list. I absolutely adored reading it – it was so fun and adorable, I felt giddy bringing it around to places with me.
Penelope Marx has a lot of similar problems that Flannery had – pining after a seemingly unattainable boy, having a falling-out with a best friend, and being completely oblivious when someone else likes you. But when Flannery felt slower, The Museum of Heartbreak felt bouncier. I liked Penelope a lot even though she could be a bit of a baby sometimes; I think maybe I saw a lot of myself in her when I read it or I felt like her big sister, wanting to guide her. And I realized while reading this book that maybe one reason why I like YA so much is because I get to be immersed in versions of high school that are cooler than my own was.
Penelope doesn't like change. Like, really doesn't. She wants things to always be the same in her comfort bubble. But to Penelope, right now, everything is changing, so she's not very happy. She collects little things that were given to her as nostalgic items, which are adorably chronicled ahead of each chapter in an illustration. They all eventually amount to The Museum of Heartbreak. (I really want to know – what came first, the items in the book or the items used for the cover art?) This book also contends for one of my favourite covers of the year.
I happily dog-eared so many pages in the book for quotes and important moments. Penelope's voice is just so softly cheeky. Like "…his grin was sly and handsome, like a fox, or a character from a Wes Anderson movie, or that fox character from that Wes Anderson movie…" when describing her crush, Keats (who is an idiot!!). Or when debating how to answer what she wants to do in college: "I shovelled some spaghetti around on my plate. 'I'm thinking more English or journalism. Words, I like them?' I ended uncertainly." (That just made me laugh because I identified with it so well. Even with the spaghetti.) I loved reading the interactions between her and her male best friend Eph, who so obviously likes Penelope but she has no clue. And it was tough to see her go through the fight with her other best friend Audrey because of miscommunication, jealousy and a boy.
I've recommended this book to friends as a great refresher after reading dark things for a while, though you can read it whenever – it's lighthearted, sweet and seriously fun. We all know it's fun to read books and all, but I really felt that extra happiness while reading this. The Museum of Heartbreak is out next week and I think it's going to do really well!
(Thank you to Simon & Schuster Canada and Chapters Indigo for the review copy.)
What are some of your favourite cute contemporary YA novels?