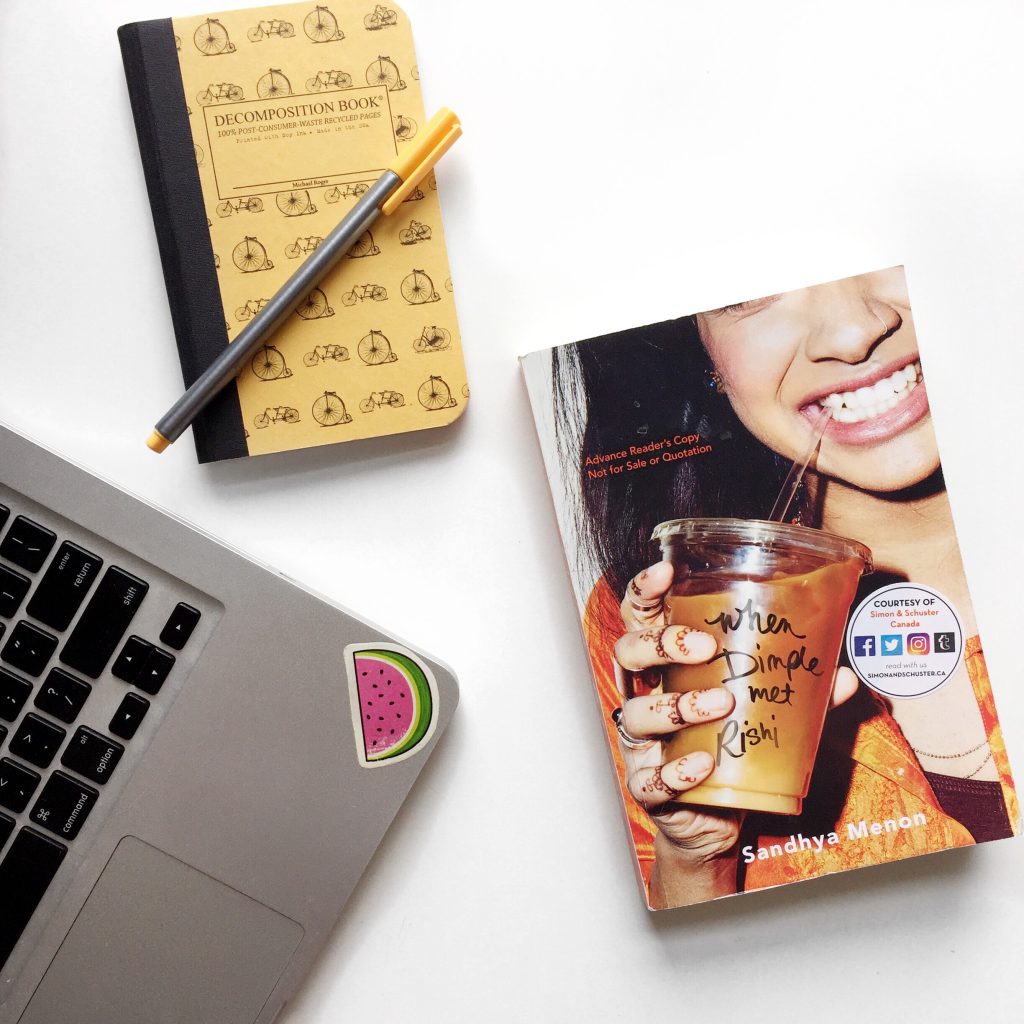 When Dimple Met Rishi, by Sandhya Menon, out now
If you follow any YA readers (and not just YA) anywhere online, no doubt you've seen the cover of When Dimple Met Rishi flow through your timeline a number of times in the last six months. The longlasting excitement for this book has been impressive and telling of how needed it is to the contemporary YA genre. While at its core, it is another cute teen romance, it's not just any other cute teen romance, because the teens that are falling for each other are Indian, and they're dealing with issues in their families that have to do with their race. This is huge, because this is part of YA publishing growing up and becoming more inclusive. When Dimple Met Rishi falls alongside of the Lara Jean Covey books in that the story includes POC characters at the forefront, and it's just about their normal kinds of teenage lives, rather than a tough story about society vs their race (don't get me wrong – those books are super important, too). I was thrilled every time I saw someone tweet about how they finally see themselves on a book cover/in a book. And all the build-up and talk about how important this book is proved more than worth it, when it cracked onto The New York Times bestsellers list for YA hardcover fiction in its first week of publication. Huzzah!
Here's a quick gist of the book: Dimple has just graduated high school and is thrilled to be going to university, but she can't get her mom off her back about needing to have an arranged marriage. When her parents quickly say OK to letting her go to a summer camp for coding, she's skeptical as to how fast they're letting her go, but too excited to care about it. But when she arrives on campus, she's soon greeted by a boy that shouts "hello, future wife!" This is Rishi – he's been signed up for the camp, too, except he's 100% aware that his parents planned with Dimple's parents to sneakily set them up there, and more than aware, this is what he wants, whereas Dimple doesn't want to think about marriage until she's much older. So of course things start out tense and uncomfortable, but soon enough, the two are paired together in class, and Dimple starts to let her guard down, falling for Rishi, even though she still doesn't want to marry him.
I had fun reading When Dimple Met Rishi. The two of them are fantastic characters and enjoyable to follow through their awkward situation, and on their own. We've got an ambitious girl and a guy who respects his elders. They feel pretty real, and their family relationships do, too. They're responsible but still have fun. The interaction between the two is electric, adorable, and sexy. I liked how Rishi won Dimple over, and how he thought about her; he makes the perfect book boyfriend being all feminist, respectful, and all that. He was quick to pick up on when classmates were treating her wrongly and would defend her without a beat of thought. (Not saying Dimple needed that, but as she's shy and grew up not used to defending herself, it was nice to have someone there for her.)
There were a few things that bothered me, though, and I just want to point them out. I understand that this story is a love story, but, it made me really wish for a story about an ambitious girl that doesn't include her falling in love and thus distracted. A girl that wants to go to college for a specific career and works her way there. I could still enjoy this book while reading, but I did have that thought in the back of my mind the whole time. And even though Dimple came for coding camp, it's a rare mention in the book, and it doesn't read like the author did any research on the topic – there's nothing specific, and I felt like that could have been a great addition. And then the camp story gets totally sidetracked by a weird talent contest that doesn't feel like it fits, but it serves as a way for the couple to get even closer as they learn how to dance Bollywood together (bow wowwww). I just felt disappointed in that.
Overall, I'm so happy this book is here and doing so much for the teens who need it. It's an sweet, light story, perfect for summer, and will continue to be a big heavyweight in the camp of adorkable YA contemporary romance for a long time.
An advanced reading copy of the book was provided by the publisher, Simon & Schuster, in exchange for an honest review. This did not affect my opinion.