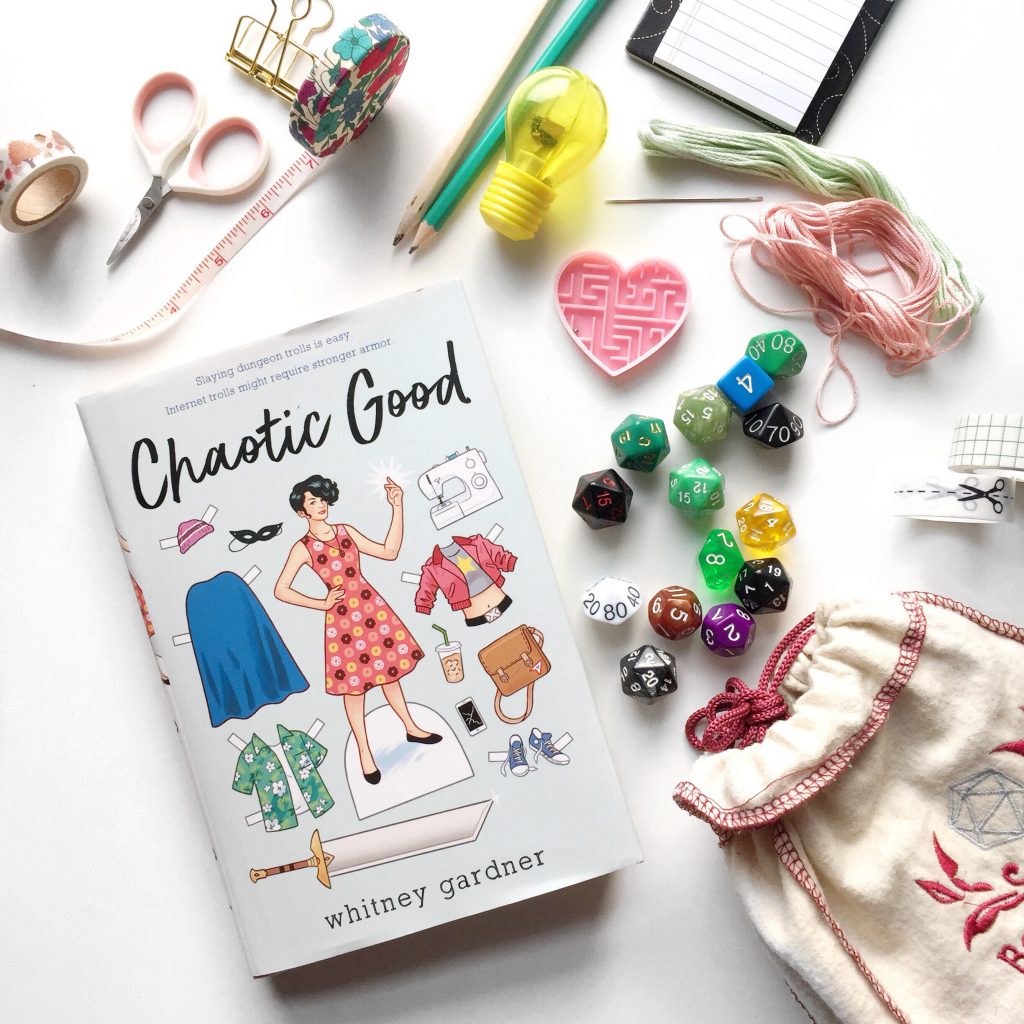 Chaotic Good by Whitney Gardner, out now
It's been a while since I finished reading Chaotic Good and I still feel hungover. I wish I had more time with Cameron, Cooper, Why, and Lincoln. Chaotic Good will easily make it as one of my favourite books of 2018!
I loved Whitney's first book You're Welcome, Universe that came out last year so I was firm in my mind that I would read anything Whitney writes. When I found out her next book had to do with D&D, I laughed. D&D is in my life, but I don't play, my partner does. And as much as I wish it was something I could share with him, it is not for me at all. I teased Jack about how he can't get me to play but Whitney can get me to read about it, and he just lovingly said he'd read the book sometime. (He's too good.) D&D isn't a huge part of the book, but it does work as a crucial turning point in the plot, which worked well for me. :p
Chaotic Good is basically a nerdy She's the Man (which then Jack said 'which is basically Twelfth Night') and I am all here for it. Cameron has just moved to a new town after living in Portland, and finding herself friendless, she heads to a place that should be able to give her comfort: a comic book store. But it's there where she runs into the pretentious and misogynistic employee Brody, who immediately questions her nerd status because she is transparent about her love of costumes, the fact that she hasn't already read everything in all the universes, and that she has her own opinions. She's still reeling from the continuous slew of trolling after she admitted at a Con that she didn't know something about a character she was cosplaying, so Brody's words sting. Unable to accept not being able to return to the only comic book store in town, Cameron lets her twin brother Cooper convince her to don his clothes and return as a guy, which of course completely convinces the guys at the store and lands her an invitation to their D&D game, and she accepts. Further complicating things, she develops a huge crush on the group's adorable Dungeon Master, and she becomes distracted from preparing a portfolio of costume ideas that she plans to present to a university later in the summer.
Besides really admiring Whitney's writing style, which just feels so effortless and careful (even though I know it's hard work) I also love the characters she creates. I want to be friends with everyone (except Brody) and I want to help and protect them because they're so precious. I admired Cameron for pushing herself and others, Cooper for his support as a brother and friend, Why (another comic book shop employee) for his sweetness and inclusivity, and Lincoln for his creativity and honesty.
Chaotic Good is a wonderful read that challenges nerd culture and shows the reader that you don't have to know every single thing about something in order to love it. It shows a girl who knows what she wants and that she takes steps to follow her dreams, embrace her creativity, and kiss a cute boy in between. It still appeals to those who don't know or like D&D. It has more than one delightful budding romance. Seriously, I could go on forever with words and mostly squee-type noises about how much I loved this book. So add it to your TBR, friends!